STACY KEIBLER
"Welcome to Thursday Night Divas! I'm Stacy Keibler!"
TORRIE WILSON
"And I'm Torrie Wilson, and tonight, we have a great show."
STACY KEIBLER
"Last week we crowned tag team champions and a hardcore champion."
TORRIE WILSON
"And tonight, the tournament for our main championship continues."
STACY KEIBLER
"Our main event is Lady Nexus against The Beautiful People for the tag titles, in the Hell in a Cell!"
TORRIE WILSON
"That's going to be a great match, but first, we have a singles match. Layla, with Michelle McCool taking on Tiffany, with Kelly Kelly."
IM INSATIABLE
Tiffany, with Kelly Kelly in street clothes, came to the stage with a medium reaction from the crowd. She skipped down the ramp and slapped five with fans, Kelly doing the same and then walking over to ringside while Tiffany got in the ring
IM A NASTY GIRL...
Layla came out to the ring with Michelle McCool, the two of them doing their usual entrance.
Layla struts down the ramp and up the stairs into the ring, McCool taking the opposite side of Kelly as the match started.
Layla took a cheap shot and slapped Tiffany in the face. In response, Tiffany showed her streak of violence and speared Layla to the ground, and threw her head against the canvas multiple times. Picking Layla up, Tiffany showed that she was a force to be reckoned with, giving three snap suplex's in succession. She went for the cover, but Layla kicked out at two. Tiffany began to bait her and kicked her in the gut, setting her up for a another suplex, but Layla reversed it by elbowing Tiffany in the gut, and took the upper hand from there. Layla worked Tiffany into the corner with several blows and held a corner foot choke for four counts. Tiffany hit her with a lariat, and had the match at this point. She set up Layla and got on the top rope for a crossbody. She nailed her and hooked her legs for the pin. Michelle McCool immediately got onto the ring apron, the ref turning to her and telling her to get off. She argued with him for a while, stalling the count. Kelly Kelly came running and swept McCool off of her feet. Tiffany moved towards the ropes to see if Kelly was okay, after McCool slugged her pretty hard. Layla jumped up just enough for the LayOut and covered for the win.
TORRIE WILSON
"Those lousy cheaters!"
STACY KEIBLER
"It's called strategy, hun."
TORRIE WILSON
"No, its cheating leggy."
STACY KEIBLER
"Dont go there playboy!"
LayCool celebrated in the ring, while the Blondetourage retreated up stage.
[Cut Backstage]
CHRISTY HEMME
"Everybody, my guest at this time is Hardcore Champion, Alicia Fox! Now Alicia, how does it feel to be champ?"
ALICIA FOX
"It feels good, but I'm constantly on edge - three times today alone I nearly lost my title. It feels good though - I'm a great champ."
CHRISTY HEMME
"Now, how do you feel about that number one contenders match later tonight?"
ALICIA FOX
"Well, I just hope those girls give it there all, if they have what it takes to challenge me next week. And, next week is a little special, its called Wheel of Divas."
CHRISTY HEMME
"That's correct, every match next week will be determined in stipulation by the wheel of divas! Whatever match it is, the girls compete in."
ALICIA FOX
"And, of course, we'll be on the upper midcard, the championship tournament final being next week.
CHRISTY HEMME
"Now Alicia whose your money on?"
ALICIA FOX
"Kong. No doubt."
CHRISTY HEMME
"THat's all we have for today!"
[Commercial]
STACY KEIBLER
"We're back with Thursday Night Divas, and Mickie James will take on Gail Kim in a couple of moments!"
HARDCORE COUNTRY!
She threw a hand up into the air, pointing at the sky and then at the championship belt on display before walking down the ramp, slapping fives with the hopeful fans and sliding into the ring, getting on the turnbuckle.
A slow beat hit the P.A system as Gail Kim came out, to a moderate pop. She did her signature pose on the stage.
She made her way down to the ring confidently, moving her hips from side to side and then smirking as she hopped upon the top rope and then dropped to the mat.
Gail and Mickie gave each other a quick hug, then a handshake, and the bell rang. The match was fierce from the beginning, both competitors giving it their all. Gail was using her speed against Mickie, jumping towards her - nailing a series of several martial arts style kicks and jumping away, swaying from side to side. Mickie couldn't catch her second wind and wasn't keeping up, but got powerful hits and grapples whenever Gail was in reach. Gail's athleticism gave her a huge advantage, coming off the top rope and diving towards Mickie James feet-first, wrapping her legs around the girls neck and hitting her with a strong headscissors takedown. Gail only got the two count, proving that Mickie James were strong enough to withstand it. Mickie James used her technical advantage here, with a huge suplex. Then, she locked in a camel clutch, which Gail eventually rolled out of. The match seemed to drag on with several near-falls and Mickie went to lunge Gail towards the ropes, and Gail reversed and then put her foot up, going for the Eat Defeat - but Mickie grabbed her leg and shoved Gail onto the ground, grabbing both of her legs before leaning forward and flipping over, bridging her body to get Gail for the three count.
STACY KEIBLER
"MICKIE JAMES IS GOING TO THE FINALS!"
TORRIE WILSON
"Who will she face? Kong or Melina.. find out next!"
STACY KEIBLER
"Duh, Melina."
[Backstage]
Trish and Lita were both dressed up in fancy dresses, smiling.
TRISH STRATUS
"Hey ladies, I just want to say something about the Royal Rumble. We have two more shows until it. By then, all three champions will be crowned. But, we are only getting one match at the Royal Rumble, but dont be discouraged. We are having the first ever DIVAS RUMBLE!"
LITA
"Yep. There are 33 girls on the roster, so we tried to get 30 spots in our Rumble, but that would take too long, so we only have 20 entries in the match."
TRISH STRATUS
"You will be chosen by how well you compete over the next two weeks, but, on the 27th, in two weeks - we will have a battle royal with our top eight picks to determine our 20th entry!"
LITA
"Winner gets her titleshot at WRESTLEMANIA!"
[commerical]
Alicia Fox cleverly managed to hide in the arena, ducking down in a disguise. There were many girls after her, so hiding in one of those storage bins where they held a bunch of tapes to distribute was ingenious.
She already saw many girls pass her by already.
ALICIA FOX
"I'm so smart..."
Just then, an athletic walked by.
TAYLOR WILDE
"Oh, this is the tape bin... could this be what Lita's looking for?"
Just as she opened it, Alicia Fox hit her in the face with the title belt and hopped out.
Then, Brooke Adams came from behind and ran forward, grabbing Alicia by the neck and hitting a bulldog, covering Alicia.
A ref ran down and started to count.
1...
2...
3...
Brooke Adams took the title and grinned.
BROOKE ADAMS
"I'm back!"
Katie Lea came and grabbed her by the hair, slamming the girl's back onto her knee.
KATIE LEA
"Not for long."
Katie covered her for the three count and instantly departed.
[Ring]
TORRIE WILSON
"We had a new champion and a new debut with Brooke Adams, but she dropped the title in under ten seconds! One of the shortest title reigns ever!"
STACY KEIBLER
"How crazy will this 24/7 mayhem get? Can Katie Lea keep it for long?
A horrible theme music hit the arena.
Every step Kong took, it shook up the arena. In fear, in dominance. She got into the ring, the ref practically cowering as she stood confidently.
"Paparazzi" hit as several man came out and red carpet rolled out. Melina hit the ring and then held up a novelty women's championship belt to show that she was serious, throwing it into the crowd.
She made her way towards the ring apron, dropping into her signature entrance.
The match started off with Kong taunting, but Melina jumped on her back and then held in a sleeperhold, getting her arm under Kong's chin, wrapping her flexible leg muscles around Kong's waist, pulling her headback, straining her stomach and disrupting her breathing. Thinking it worked, Melina heel kicked Kong in the tush and had the women bent over and turned her body around, so that she was set up for the Last Call. When she went to flip over, she couldn't get Kong down, and she couldn't pull on the women's legs. Kong, angrily, jumped into a sitting position, her rump all in Melina's face and chest. Kong, sitting on her chest, grabbed the helpless girls feet and held her for the three count.
Kong held up her hand in victory, the ref acknowledging it. The finals was Mickie James vs. Awesome Kong: a match made in heaven.
[Commercial]
STACY KEIBLER
"Katie Lea, the new Hardcore Champion, will be replaced by Alicia Fox in tonight's match."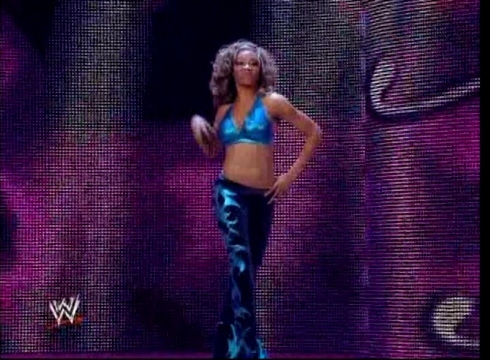 Alicia Fox came down to the ring, eyeing Katie with a vengeance, mad for losing her title.
A former Hardcore champion herself, Rosa Mendes, came to the ring, looking as fierce as ever, determined to win this fatal four way match.
Madison Rayne had a sultry walk as she came down the ramp, slapping five with a couple of fans, but her eyes situated on Katie Lea. She wanted this shot really bad.
She stepped into the ring.
Maria's music hit as she came out to the stage to the largest pop of the match, the fans happy to see her.
She walked down the ramp and towards the ring, where Alicia Fox hit her in the head with a garbage can.
DING!
The match started off with Alicia Fox and Maria on the outside, and Madison and Rosa on the inside. The match was officially billed as a Falls Count Anywhere Match, so falls could happen anywhere. Alicia Fox walked away from Maria and grabbed Katie Lea by the hair, shoving his into the barrier. Maria came from behind and rolled Alicia up, only getting a two count. Maria got onto the announcer's table, taunting Alicia. Alicia got on it and then Maria kicked her in the gut, and then elbowed her in the face. She set up for the Beautiful Bulldog, but Alicia avoided it. Maria slapped her, and kneed her in the gut, setting up for it again. Alicia shoved her forward, and grabbed Maria - hitting a bridging norther lights suplex into a pin. The ref on the outside counted, but Madison Rayne ran and broke up the pin. Alicia Fox heel kicked Madison rayne, knocking the girl out. Just as Alicia went to pin Maria, Rosa Mendes ran and rolled up Alicia - grabbing her tights for the three count.
Rosa then turned around and grabbed Katie Lea and threw her into the steel steps, Katie hitting them feet first.
Rosa smacked her with a chair and pinned her.
1...
2...
3...
Immediately after he got the three count, Katie Lea reversed it back into a small package.
1...
2...
3...
Katie Lea grabbed her title and took off.
STACY KEIBLER
"ROSA MENDES REIGN SHORTER THEN BROOKE ADAMS!"
TORRIE WILSON
"We made history today, Rosa didn't even spend a second as the champion!"
[Commerical]
NIKKI BELLA
"Brie?"
BRIE BELLA
"Yeah, Nikki?"
NIKKI BELLA
"Do we have a match tonight?"
BRIE BELLA
"No, why?"
NIKKI BELLA
"I want to wrestle."
BRIE BELLA
"Go become hardcore champion."
NIKKI BELLA
"Okay...?"
BRIE BELLA
"Take this!"
Brie Bella hands Nikki Bella broomstick.
[Cut to Ring]
"You Make The Rain Fall" hit the P.A system, and the entire group of Lady Nexus took the stage.
Aksana and Maxine went up first, with the other three in tow behind them. They stepped into the hell in the cell, while AJ, Kaitlyn, and Naomi were told to wait on the outside.
The Beautiful People were next, and the crowd cheered for them, much to everybody's surprise.
The match started was a tornado tag, and Angelina took Maxine in the middle of the ring while Aksana and Velvet were on the outside, fighting. The rest of NXT got involved with the Aksana and Velvet fight, and helped Aksana take down Velvet and Aksana climbed on top of the structure, the rest of the girls helping her pull Violet up. She dragged Violet to the middle, wanting to put her through the top of the structure, but Violet was simply a better wrestler then she was, and managed to reverse it, leading Aksana towards the edge. Meanwhile, in the ring, Angelina Love had a table set up and laying on it was Maxine. Angelina Love climbed onto the top rope and went for a crossbody, but Maxine put her knees up, nailing Angelina. Maxine rolled off of the table, and set Angelina up so that she was leaning against it. Maxine grabbed her, and set up Angelina into a hurricarana, putting the girl through the table. Maxine went for the count, only getting two. Naomi walked into the ring while AJ and Kaitlyn climbed up. Naomi started fighting with Angelina, and Maxine went for the roll-up, grabbing the tights. Angelina still managed to kick out and she went on a rage of fury, taking down Noami and Maxine. She grabbed Naomi and threw her out of the ring, Naomi hitting the wall of the hell in the cell, before hitting Maxine with the lights out, covering her only for the two count. Meanwhile, on top, Velvet Sky had three girls against her, but she rammed her foot into Kaitlyn's gut and knocked the girl off of the top of the structure. AJ charged her like a hellcat now, and so did Aksana. Aksana went for a reverse roundhouse kick, but Velvet ducked and she hit AJ, knocking the girl out. Velvet took her and led her to the middle. Aksana reversed Velvet's hold and hit a Spinebuster, into a spinning neckbreaker, taking her through the top and onto the mat. Both girls lay unconscious for a second until Naomi runs in and puts Aksana's hand on Velvet's chest, but what she doesnt notice is Velvet doing the same thing on Aksana's chest.

1...
2...
3...

The ref counts it, but he doesn't know who to give the victory to.
OH! ITS TIME TO ROCK N' ROLL!
Trish Stratus grinned as she came onto the stage.
TRISH STRATUS
"Isnt it obvious? Velvet pinned Aksana, and Aksana pinned Velvet. They both gained pinfalls, but lost one, so therefore - Aksana and Velvet Sky are the tag team champions. Not The Beautiful People, not Lady Nexus: them two."
The two champions glared at each other before going to their respected sides.